High-Temperature Gaskets
Gaskets are essential for sealing and protecting industrial equipment. Die-cutting is excellent for mass-producing gaskets to exact specifications, while hand-cutting is ideal for specialized gasket needs. Investing in custom gasket services can ensure you get the necessary solutions without wasting time and money. McNeil delivers high-quality gaskets for all your standard and custom needs.
For more information on PBI NEFALIT® Millboards for centrifugal casting, click here.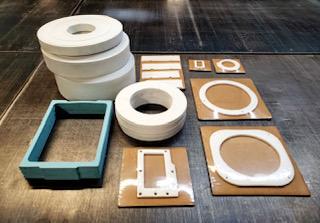 Die-Cut Gaskets & Shapes
Die-cut gaskets are heat-resistant seals that help prevent damage, contamination and leaks in industrial components. Die-cut gaskets are made through the die-cutting process. For die-cutting, a specialized machine cuts each gasket into the correct size and shape for each use. Die-cutting creates gaskets from flexible, reliable materials for a tighter seal. The accuracy and specialization of die-cutting make it highly effective, cost-efficient and consistent.
The materials used for die-cut gaskets are both flexible and heat-resistant — essential properties for many materials used in industrial processes. These properties ensure each component creates a tight, durable seal. The die-cut method allows for highly-specialized shapes and multiple products. You can order a gasket and receive as many of that shape as you need. This method is extremely convenient for industrial applications requiring many specific gasket shapes.
The cutting device — called a die — swiftly and accurately punches out your gasket shape. The fast, accurate nature of the die means multiples of the same gasket shape are produced very quickly. If you need many identical gaskets, die-cutting can minimize costs without sacrificing quality.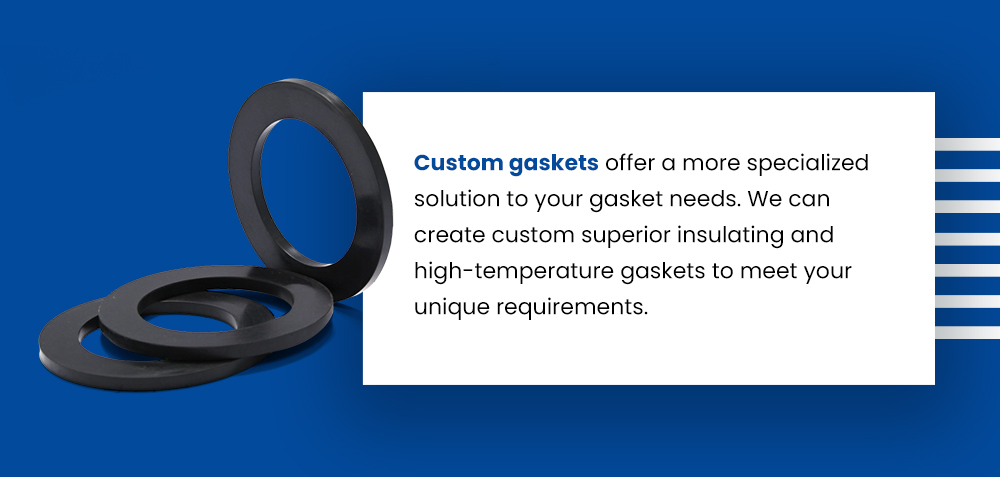 Custom Gaskets
Custom gaskets offer a more specialized solution to your gasket needs. Mass-produced die-cut gaskets work well for standard applications, but many industries require custom gaskets to meet their needs. We can create custom superior insulating and high-temperature gaskets to meet your unique requirements. The experts at McNeil will work with you to find the right material for the job, and we'll cut custom gaskets and shapes to fit your components.
We can hand-cut gaskets for smaller or even more specialized orders to give you the same reliable quality without needing larger gasket quantities. Hand-cut methods are ideal for projects involving small, complicated angles or special materials. Some materials and angles are unsuitable for machine die-cutting — in this case, our expert team will carefully hand-cut your gasket from the template. Hand-cutting ensures a high-quality result for the most specialized of gasket needs.
Gasket Applications
Standard gaskets are used across the industrial sector. They have dozens of applications and are extremely useful. However, many industries require more specialized gaskets to handle unique problems or extreme conditions. Custom and high-temperature gaskets are used in many critical sectors, including:
Steel & Nonferrous
Military
Aerospace
Automotive
Petrochemical
Chemical processing
Appliance
Ceramic and Glass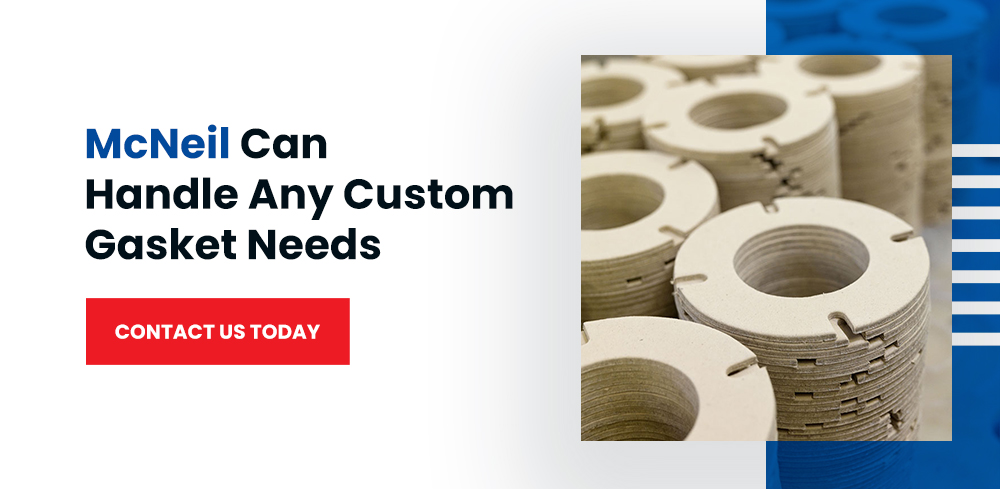 McNeil Can Handle Any Custom Gasket Needs
McNeil delivers custom, expert solutions for all your gasket problems. Whether you need die-cut or custom hand-cut gaskets, McNeil has the experience and tools necessary to provide precise products. Our gaskets can fix leaks, sustain high temperatures and perform effectively in your industrial components. To learn more about our custom gasket solutions, contact us online today.
McNeil — Your Gasket Manufacturer
We're dedicated to finding the best solutions for our customers. With our custom die-cut and hand-cut gaskets, you can prevent leaks with precision. Fill our online contact form today to receive a quote. If you'd like to learn more about our products or processes, give us a call at 1-800-722-5538.
Contact Our Team