High-Temperature Gaskets
Gaskets are vital parts for sealing open spaces and preventing leaks on machinery. High-temperature gaskets have to do this in extreme environments. At McNeil, we provide various gasket cutting methods to give you the ideal high-temperature gasket for your device.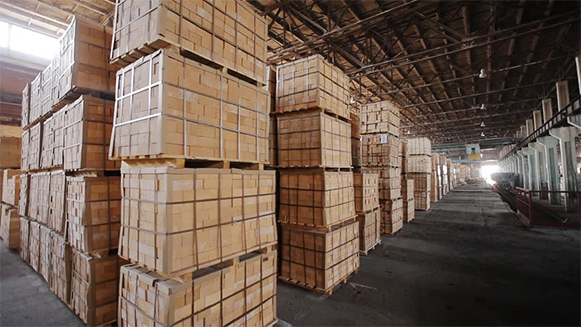 Our Industrial Gaskets
We offer an array of industrial gasket solutions to meet your specific requirements.
Die-Cut Gaskets
Die-cut gaskets rely on a cutting tool known as a die. These tools are incredibly sharp blades shaped to individual specifications. One of the most significant benefits of die-cutting is the ability to recreate the same shape repeatedly.
Die-cutting can be done with a steel rule or a rotary press. With a steel rule, the die acts like a stamp or a cookie cutter, individually punching out the desired gasket shape. With a rotary press, a cylindrical die impresses or cuts out shapes as the material rolls underneath the press. Regardless of the method, you'll end up with a collection of identical gaskets that follow precise tolerances.
Die-cut gaskets are best used for applications where you need multiples of the same gasket. If your gasket shape and size are relatively simple, die-cutting can be cost-effective and ideal for any sealing needs.
Custom Die-Cut Gaskets
While a mass-manufactured die relies on computerized measurements and standard sizing, custom dies can be produced for your exact requirements. If you have a unique sealing problem with an irregular shape or size, custom die-cuts are an excellent choice. We can determine the gasket you need based on your sealing issue. We'll form a die according to those specifications, and you'll receive a gasket made for your project.
We create dies with a highly pressurized machine that punches the designated shape from a sheet of metal. The device uses a computer to follow precise measurements, so you can expect your gasket to be a perfect fit.
Custom Hand-Cut Gaskets
Sometimes, your project requires a gasket that is too complicated for die-cutting entirely. Your gasket might need multiple small angles, or it might demand a material that doesn't interact well with die-cutting processes. Our custom hand-cut gaskets are the best way to fill your unique gasket needs.
We'll identify your gasket specifications, including dimensions and material, and we'll create a template. From there, one of our skilled craftsmen will use the template to cut your gasket from the desired medium. With every hand-cut gasket receiving attention, you can expect a well-fitting final product.
Applications of Industrial High-Temperature Gaskets
Gaskets are valuable parts of machine processes across industries. While standard gaskets exist to fill spaces and prevent leaks, high-temp gaskets are responsible for surviving extreme conditions too. Industries that use high-temperature gaskets include:
Mining
Aerospace
Military
Petrochemical
Power
Chemical processing
McNeil — Your Gasket Manufacturer
We're dedicated to finding the best solutions for our customers. With our custom die-cut and hand-cut gaskets, you can prevent leaks with precision. Fill our online contact form today to receive a quote. If you'd like to learn more about our products or processes, give us a call at 1-800-722-5538.
Contact Our Team