Industrial Refractory Services for the Steel and Aluminum Industry
The process of manufacturing aluminum and steel produces intense heat to achieve a sufficient melting temperature. Refractories play a crucial role in protecting kilns, furnaces, incinerators, and other equipment. These materials serve as heat-resistant coatings that line the hot surfaces and can withstand the mechanical abuse, chemical attack, and thermal shock that cyclic heating produces. They also prevent molten metal from penetrating the surface, which can destroy a furnace lining.
McNeil Company is your one-stop headquarters for steel making and aluminum manufacturing refractories that provide a reliable protection solution for your valuable heating equipment. We are a full-service distributor for many leading refractory suppliers, and we also offer our own products. Refractories also come in an assortment of shapes and sizes to ensure the perfect fit for your equipment. You'll get a superior material you can trust to withstand the rigors of the harshest operating environments.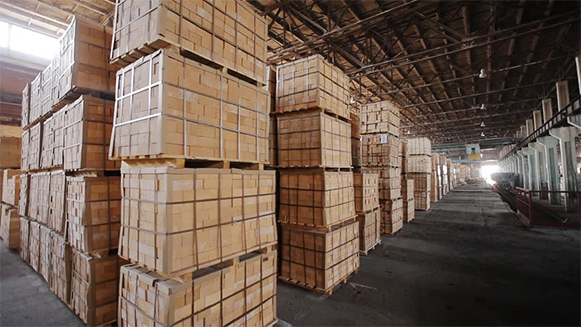 Refractories for the Steel and Aluminum Industry
Our lineup of refractories for the aluminum and steel industry include:
Guniting
Also known as shotcrete or sprayed refractory, gunite can shorten total downtime and save installation labor costs by installing refractory without the costs of forming and pouring. The fast, easy, gunite installation method offers more lining possibilities in critical areas and can be used for insulating backup lining as well as dense and abrasion-resistant protection on the hot-face of the lining.
Plastic Ramming
As the name implies, these synthetic refractories require a pneumatic ramming tool to hammer them into place. The tool should contain a context head measuring 2.5 to 3 inches to enable maximum knitting and allow the plastic slabs to fill the space. Venting is necessary during the curing process to allow steam to escape.
Plastic Gunning
Gunning is another pneumatic method for installing plastic refractories for aluminum and steel industry applications. This technique saves time and typically results in a lower cost than ramming. The plastic materials can come in granular or extruded form, with the latter being the preferred option in the U.S. and Canadian markets. As with rammed material, gunned plastic refractories offer good compaction and consistent density.
Redi-Shapes
These precast shapes consist of high-quality plastic and castable materials that provide excellent heat loss control. They also help overcome the issues that often occur in highly reactive manufacturing environments. It's possible to configure these refractories into various sizes and custom shapes. They come baked out and ready to install, which saves time during heat up and helps to reduce overall repair costs.
Refractory and Services for Your Steel and Aluminum Business
At McNeil, we can do much more than offer high-performing refractories for steel and aluminum manufacturing. We also sell, install and repair kilns, boilers, furnaces, incinerators, and related equipment.
When you choose us, you partner with a company that has been in business since 1937. Our responsiveness and attention to customer service set us apart from other competitors in our industry.
Contact us online or call us at 800-722-5538 today to learn more about our refractories for the aluminum and steel industry and request a no-obligation quote.
McNeil Company: Serving Your Industry Since 1937
At McNeil, we are dedicated to serving many different industries. Call us today at 1-800-722-5538 or fill out our online form for a quote.
Get a Quote