Refractory Services for Chemical and Mineral Plants
Chemical manufacturing and mineral processing plants rely on heat-treating equipment for many of their operations. This machinery is exposed to harsh materials and extreme temperatures, which can impact its performance and shorten its lifespan. The use of refractories is essential for minimizing the damage. These materials also help companies reduce their carbon footprint and lower their energy costs.
If your chemical or mineral processing facility could benefit from high-quality refractories, count on McNeil to have what you need. We also offer a full-complement of refractory services that can ensure your equipment's best performance.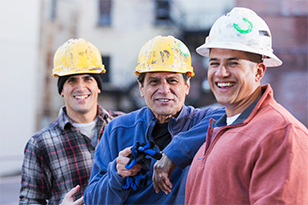 High-Temperature Heating for Chemical and Mineral Plants
Chemical and mineral plant operations use various types of heating equipment to get the job done:
Boilers: An industrial boiler generates steam for heat, power or other purposes within a chemical or mineral processing facility.
Furnaces: Furnaces generate heat for various manufacturing and processing applications.
Kilns: A kiln combines a powerful heating element with an insulated shell to perform tasks such as drying, hardening and producing chemical actions and reactions.
Incinerators: An incinerator is a type of furnace used for burning applications in chemical and mineral plants.
McNeil can provide the right chemical or mineral processing refractories for these and other high-temperature heating machinery.
Refractories for Chemical and Mineral Plant Applications
Some examples of our high-performing refractories for the mineral and chemical processing industry include:
Castables
Castables are monolithic (consisting of one piece) nonmetallic materials that can be poured, sprayed, pumped, gunned or cast into place. Castables provide excellent thermal resistance, making them ideal for high-temperature furnaces and kilns.
Fire Bricks
These blocks of nonmetallic substances line kilns or furnaces and can withstand high temperatures. They also have a low thermal conductivity that provides adequate energy efficiency.
Redi-Shapes
These precast shapes from Plibrico can consist of plastic or castable materials. When used to line heat treating equipment, they provide reliable heat loss control and help resist corrosion, thermal shock, erosion and slag penetration.
Fiberglass/Silica
Fiberglass and silica refractories provide excellent sealing properties in high-temperature chemical and mineral processing environments. Besides forming seals, these materials can also serve as insulation, flame-resistant barriers and furnace curtains.
Refractory Products and Services for Mineral and Chemical Plants
As a full-service refractories supplier, McNeil can provide complete support based on our more than 80 years of industry experience. We can install any refractory quickly, efficiently and affordably. We can also deliver prompt, reliable repair service for boilers, kilns, furnaces and other heat treatment equipment. We're experts at fixing tube sheets, casings and more. We even do boiler cleanings to ensure your machinery operates at peak efficiency.
Learn More About Refractories for the Mineral and Chemical Industry
At McNeil, customer service is always our top priority. We'll be happy to discuss your company's unique chemical and mineral processing refractory needs and recommend the best solution for your operation. We can also provide a no-obligation quote. Call 800-722-5538 or contact us online for more information today.
Find Your Refractory Solutions at McNeil
Fire bricks make insulation needs simple. With various material options, refractory bricks are prepared to handle high temperatures, harmful chemicals and other extreme environments. At McNeil, we're dedicated to helping you find the right solution for your needs. If you have questions about our products, give us a call at 1-800-722-5538. You can also fill out our contact form to receive a quote if you're ready to buy.
Contact Us