How Are Ceramic Fiber Products Made?
Ceramic fiber products use thin, yet strong, metallic fibers to create heat-resistant materials. In many industries, insulation and sealing play vital roles in high-temperature activities. Cloth and other materials provide flexibility and low weight for these applications. At McNeil, we offer a myriad of ceramic fiber products to meet your refractory needs.
Ceramic fiber products are considered refractory materials, and they consist of small alumina silicate fibers. Alumina silicate provides excellent thermal resistance and low conductivity, which makes it perfect for various high-temperature applications.
To make these thin fibers, aluminum and silicon are melted together in a furnace. Once they've melted together, the molten metal receives quick streams of air, which cool the metal and separate it into strands. These fibers are woven together to create heat resistant fabric.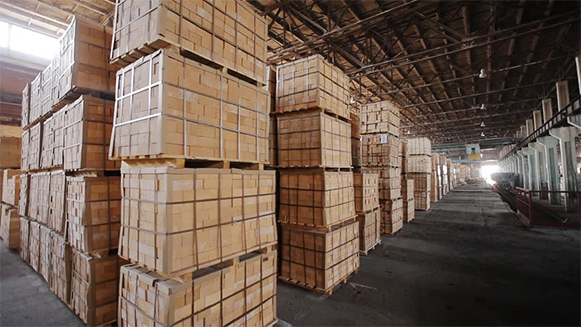 Ceramic Fiber Materials
Check out our ceramic fiber product offerings.
Blankets
As a soft refractory, ceramic fiber blankets have the same heat resistance and conductivity of hard refractories. Lightweight and robust, these products quickly adapt to a space and are prepared to handle many heat-based applications. Use ceramic fiber blankets for:
Boiler insulation
Commercial dryer insulation
Expansion joints
Gaskets and tube seals
Petrochemical industry
Duct and pipe insulation
Felts
Thinner than ceramic fiber blankets, felts are excellent for architectural applications and aerospace and petrochemical industries. Felts are easy to cut and shape to your specifications, making them ideal for close tolerances. Offering the same thermal resistance of other refractories, this ceramic fiber cloth works for:
Furnace insulation
Fire doors
Heating pipes
Expansion joints
Boards
For a more solid material than blankets or felts, ceramic fiber boards still offer reliable thermal resistance. While they provide more rigidity than fabrics, boards are still flexible and lightweight. They have a high volume weight for increased durability and resistance. Ceramic fiber board also resists oxidation. If a board gets wet with water, oil or steam, it will return to normal when it dries.
Applications for ceramic fiber boards include:
Heat shields
Furnace lining
Combustion chambers
Gaskets and seals
Papers
Ceramic fiber paper offers flexibility for many high-temperature applications. Extremely thin and lightweight, this material maintains heat-resistance, chemical stability and corrosion resistance. Applications include:
Mold wrap
Expansion joints
Die-cut parts
Gaskets
Insulation
Textiles
We offer various other ceramic textile products like rope, braid, cloth and tape. Much like our other ceramic fiber products, these materials provide the heat and corrosion resistance you need for high-temperature projects. They're also resistant to mechanical vibration. Find uses for these products in:
Insulation
Sealing
Gasketing
McNeil Has the Ceramic Fiber Materials You Need
At McNeil, we know how vital refractory materials are. Our ceramic material products make insulation, sealing and gasketing simple with flexibility, strength and low weight. Our vast selection will cover all your heat resistance needs. If you have questions about our products, give us a call at 1-800-722-5538, and we'll guide you in the right direction. You can also request a quote using our online form.
Contact Our Team