Materials and Products
McNeil offers a wide variety of refractory materials and products, including refractories, ceramic fiber, fire brick, fiberglass and silica textiles and gaskets. Some materials are manufactured internally, while others are outsourced. In either case, our goal is to provide the highest-quality materials for our customers.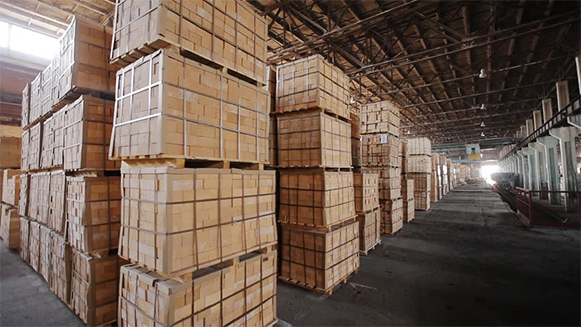 Refractories
Refractories are essential in any industrial unit exposed to extremely high temperatures, such as furnaces, kilns, boilers and incinerators. They are more heat-resistant than metal, making them the best choice to withstand excessive heat due to high-temperature refractory coatings. We have all the refractory materials you need, and our expert staff can help you determine what will work best.
At McNeil, we offer industrial refractory products from many popular suppliers, such as Plibrico®. We also make some products ourselves to ensure a high-quality refractory every time. Our inventory includes:
Plastics – HyRate®/gunning plastics
Castables – dense, insulating, low cement
Mortars – servicing mixes
Pliflow® Pumpables – pli-shot
Gunning mixes – Al-Tuff® system
Redi-shapes – anchors
And more
Ceramic Fiber Products
Typically used for insulation, filtration and packing or reinforcing other ceramic materials, ceramic fiber is a small-dimension thread or filament made from ceramic materials such as silica or alumina. These products, including high-temperature millboard, are typically used in lightweight units for thermal insulation.
At McNeil, we offer the following forms of ceramic fiber products:
Blankets
Felts
Boards
Papers
Bulk paper
Modules
Insulfrax®
Excelflex®
Rope, braid, cloth, tape
Mixes, coatings, pumpables
Fire protection products
Hardware
Learn More About Our Ceramic Fiber Products
Fire Brick Refractory
Most often used to line furnaces, kilns and fireplaces, fire brick will withstand high temperatures and provide energy efficiency. We offer different fiber brick refractory products and services, including:
Super-, high- and medium-duty bricks
Insulating
SiC Brick
Tiles
Special shapes
High alumina
Learn More about Our Fire Brick Refractory Products
Fiberglass & Silica Textiles
Silica and fiberglass textiles are used for high-temperature insulation that provides thermal and fire protection. They are strong and flexible and can be used in a variety of applications.
These products include:
Tape
Cloth
Rope
Sleeves
Tadpole tapes
Learn More About Our Fiberglass & Silica Textiles
Gaskets
Our high-temperature gaskets are specifically designed for heat-sensitive industrial solutions up to 3,000ºF. The gaskets are custom-sized and shaped to meet your exact requirements. We use high-quality die-cut, hand-cut and slit products that always come from non-metallic material with no asbestos.
Our gaskets are a top choice for numerous reasons, including:
Die-cut parts are an economical way to meet gasket, spacer and seal requirements.
Textile-covered products are ideal for applications that require repeated use or ease in handling and installation.
Special parts made from Fiberfrax® Board, Fiberfrax® Paper and Fiberfrax® Lo-Con Felt offer diverse engineering applications.
Contact McNeil Today for Industrial Refractory Materials and Products
For more information on our materials and products, call us today at 1-800-722-5538. You can also request a quote by filling out our online form. We look forward to hearing from you and helping you find the exact refractory material you need.
Get a Quote