Refractory Services for Oil Refineries
The oil refining process takes a toll on heat-treatment equipment. Constant exposure to extreme temperatures and harsh chemicals can impact the performance of boilers, kilns and other machinery. Refractories for oil refining safeguard this equipment by providing a protective lining that can prevent damage from these destructive conditions.
The McNeil Company offers multiple high-quality refractories for oil reserve industry applications. We also provide comprehensive service and support to maximize your equipment's performance.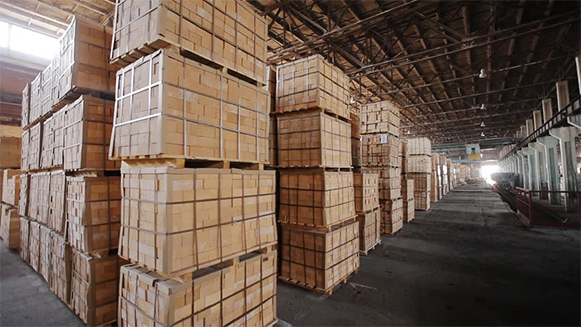 High-Temperature Heating for Oil Refineries
Depending on the operation and project scope, refineries may use an assortment of heating equipment:
Boilers: Boilers are one of the most fundamental systems in many oil refineries. The steam that boilers create can power turbines and help achieve the appropriate temperatures during the production phase.
Kilns: Cement kilns are thermally insulated chambers that produce sufficient temperatures for completing processes such as drying, hardening or facilitating chemical reactions.
Incinerators: Industrial incinerators provide high-temperature burning of some of the waste produced during the oil refining process.
Furnaces: A furnace provides the heat that's essential for conducting various oil refining procedures.
McNeil can provide the right refractories for each of these equipment types.
Refractories for the Oil Refinery Industry
Examples of our refractories for oil refining include:
Castables
Castables are nonmetallic materials that offer excellent abrasion, heat and thermal shock resistance. Their low heat conductivity provides essential stability when creating heating equipment linings. Castables are monolithic refractories, meaning they consist of a single block of material.
Guniting
Guniting is often the most effective solution for repairing concrete linings in boilers and other materials. Gunite is a dry-mixed form of concrete that service technicians can easily spray into the damaged area.
Ramming
This process involves using a pneumatic hammer to ram a specially formulated plastic refractory material into place. Ramming mixes are ideal for emergency repairs, as the tech can pound them into any shape and make them fit contours.
Fire Brick
Fire brick refractories consist of nonmetallic materials that provide reliable heat containment in furnaces and kilns. Bricks offer numerous material options, each providing unique properties and characteristics.
Refractory Products and Services
When you choose McNeil as your supplier of refractories for oil refining, you also get exceptional service from a dedicated team of professionals. We offer expert installation of boilers, kilns, incinerators, furnaces and more. If you're experiencing a mechanical issue with your heating equipment, our well-trained service technicians can provide a fast solution that minimizes unproductive downtime. We're also available to perform regular maintenance to prevent expensive problems from occurring and extend your equipment's lifespan.
Contact Us for More Information About Industrial Refractories for Oil Refining
The McNeil Company has been providing high-quality, reliable heat-management solutions for oil refining and other industries since 1937. You can trust us for all your refractory needs.
To learn more about our refinery refractory products or to schedule a convenient service appointment, call 800-722-5538 today. You can also request a quote online by filling out and submitting our contact form.
McNeil Company: Serving Your Industry Since 1937
At McNeil, we are dedicated to serving many different industries. Call us today at 1-800-722-5538 or fill out our online form for a quote.
Get a Quote